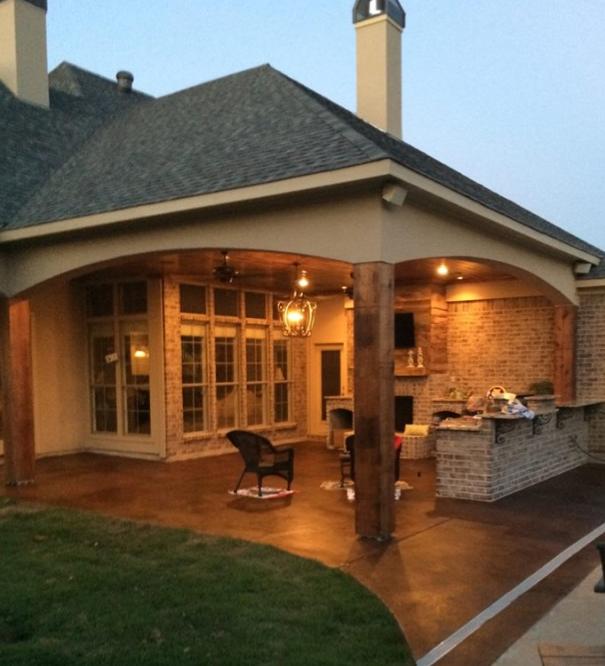 Get Rid of Your Gray!
Stained concrete provides the best of both worlds: beauty and functionality. Concrete staining imparts a luxurious richness that can't be achieved by any other coloring medium. What's more, stain applications can transform dull, gray, concrete surfaces into a beautiful addtion for indoor and outdoor surfaces., Staining a patio or porch is an ideal solution for revitalizing lackluster surfaces. If you're looking for more vibrant colors and a richer look then SLABFX surely has a staining system for your home or business.
Our concrete staining systems are perfect for:
Outdoor living areas
Interior floors
Patios
Porches
Entryways
Driveways & Porticos
Hardscapes & More!
Why leave concrete bare and gray when you can so easily and economically enrich its appearance with a bit of creativity by the professionals from SLABFX? Call us today for a free consultation and find out the fantastic options available to you!
Don't let your concrete patios be sad and gray!
SLABFX can produce dramatic color effects that take a basic stain job to the next level. When compared to carpet, tile, wood or stone, stained concrete is the most long-lasting and economical choice by far! It doesn't peel, flake, mold or mildew. Not only does it come in a wide spectrum of colors, it's highly customizable.
Give us a call today (318) 268-6364 and let us help turn your existing concrete into a work of art! . As always, please feel free to contact us regarding any of your staining questions or to plan your next staining project with SLABFX.
Hire us for your next staining project!
SLABFX DECORATIVE CONCRETE is the premier decorative concrete contractor for the ArkLaTex. We look forward to earning your business and would like to be your concrete staining company.
For your added convenience, we provide an online bid request form. Fill out a simple form for the day and time most convenient to you. We'll conctact you to confirm the appointment or talk with you over the phone, whichever you prefer. It's as simple as that!
TAKE TIME TO LOOK AT SOME OF OUR PROJECTS BELOW.